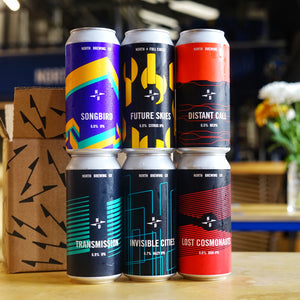 You asked, we listened! Our best-selling hop pack is now also available as a 12 pack.
This pack contains a selection of 12 fresh IPAs from the brewery cold store that are bursting with delicious, vibrant hop character.
This pack contains**:

2x Invisible Cities - Hazy IPA 6.7%
2x Lost Cosmonauts - DDH IPA 6%
2x North x Full Circle Future Skies - Citrus IPA 6%
2x Songbird - IPA 6%
2x Transmission - IPA 6.9%
2x Distant Call - NEIPA 6.5%
**If any of these products are out of stock, we will replace them with an alternative beer in this range.
Invisible Cities Ingredients:
Barley, Oats, Hops, Yeast
Lost Cosmonauts Ingredients:
Barley, Oats, Hops, Yeast, Water
North x Full Circle Future Skies Ingredients:
Barley, Oats, Hops, Yeast, Lemon
Songbird Ingredients:
Barley, Wheat, Hops, Yeast
Transmission Ingredients:
Barley, Wheat, Hops, Yeast, Water
Distant Call Ingredients:
Barley, Oats, Wheat, Hops, Yeast