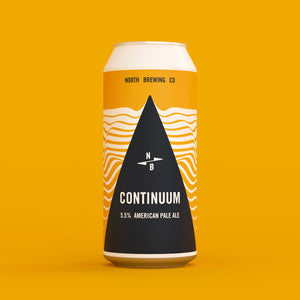 Continuum - Pale Ale 5.5%. ABV 440ml Can
Continuum takes inspiration from a true classic, Sierra Nevada Pale Ale. Our inaugural North Bar was the first place in the UK to run Sierra Nevada's beers through its lines, so it only made sense to pay tribute to a beer that revived the brewing industry in the States, made US hops famous and set so many people across the world onto their path to craft beer.
Pale Malt and Crystal Malt make a crisp and crunchy full bodied base with a deep amber hue. We've made a modern twist in the recipe using fresh CRYO™ Cascade added at various stages throughout the boil and in true Sierra Nevada style, we added generous quantities of the freshest whole leaf Cascade in the whirlpool and dry hop. The result is a clean, complex, and fragrant bouquet of floral aroma and subtle spice with zippy zesty and juicy pink grapefruit and orange with a lingering bitter finish!

Vegan
Ingredients:
Barley, Hops, Yeast, Water