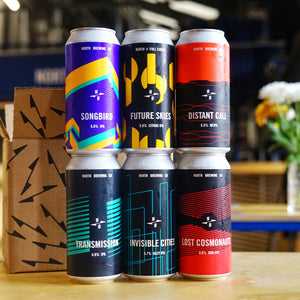 Sometimes all you want is a soft, hazy IPA to quench your thirst. This pack contains a selection of 6 fresh IPAs from the brewery cold store that are bursting with stonefruit and citrus hop character.

The perfect size for stocking up the fridge so you're not left short when you or a mate is craving a soft, fresh and full bodied IPA.

This pack contains**:

1x Invisible Cities - Hazy IPA 6.7%
1x Lost Cosmonauts - DDH IPA 6%
1x North x Full Circle Future Skies - Citrus IPA 6%
1x Songbird - IPA 6%
1x Transmission - IPA 6.9%
1x Distant Call - NEIPA 6.5%
**If any of these products are out of stock, we will replace them with an alternative beer in this range.
Invisible Cities Ingredients:
Barley, Oats, Hops, Yeast
Lost Cosmonauts Ingredients:
Barley, Oats, Hops, Yeast, Water
North x Full Circle Future Skies Ingredients:
Barley, Oats, Hops, Yeast, Lemon
Songbird Ingredients:
Barley, Wheat, Hops, Yeast
Transmission Ingredients:
Barley, Wheat, Hops, Yeast, Water
Distant Call Ingredients:
Barley, Oats, Wheat, Hops, Yeast