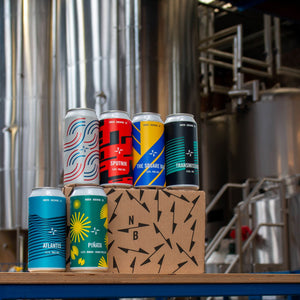 The best way to stock up the fridge for those summer evenings... it's our award-winning core range in their shiny new clothes!
Twelve of our family favourites, from bright, crushable pales to dry, floral Pils.
We're incredibly proud of what our core range has become, and the beers are constantly in production so you'll receive them at their freshest!
This Bundle includes**:
2x Springwell Pils - Pilsner 4.5% 
2x Sputnik - Pale Ale 5.0%
2x Piñata - Mango + Guava Pale Ale 4.5%
2x Transmission - IPA 6.9%
2x Atlantis - Pale Ale 4.1%
2x North x the Square Ball 4.5%

**Please note, if any of these products go out of stock, we will replace them with an alternative core range beer.
Springwell Pils Ingredients:
Barley, Hops, Yeast, Water - Vegan

Sputnik Ingredients:
Barley, Wheat, Hops, Yeast, Water - Vegan

Piñata Ingredients:
Barley, Wheat, Mango, Guava, Hops, Yeast, Water - Vegan

Transmission Ingredients:
Barley, Wheat, Hops, Yeast, Water - Vegan

Atlantis Ingredients:
Barley, Wheat, Hops, Yeast, Water - Vegan 
North x The Square Ball Ingredients:
Barley, Wheat, Hops, Yeast, Water - Vegan