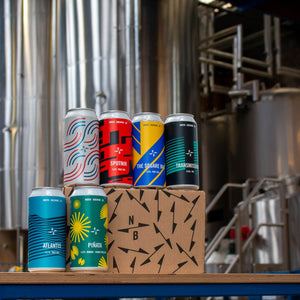 The best way to stock up the fridge for a hopefully sunny summer bank holiday... it's our award-winning core range!
Twenty four of our family favourites, from bright crushable pales to a crisp, floral Pils. We're incredibly proud of what our core range has become, and the beers are constantly in production so you'll receive them at their freshest!
This Bundle includes**: 

4x Springwell Pils - Pilsner 4.5% 
4x Sputnik - Pale Ale 5.0%
4x Piñata - Mango + Guava Pale Ale 4.5%
4x Transmission - IPA 6.9%
4x Atlantis - Pale Ale 4.1%
4x North x Square Ball California Pale Ale - 4.5%

**Please note, if one of these products is not available we will replace it with an alternative core range product.
Springwell Pils Ingredients:
Barley, Hops, Yeast, Water - Vegan

Sputnik Ingredients:
Barley, Wheat, Hops, Yeast, Water - Vegan

Piñata Ingredients:
Barley, Wheat, Mango, Guava, Hops, Yeast, Water - Vegan

Transmission Ingredients:
Barley, Wheat, Hops, Yeast, Water - Vegan

Atlantis Ingredients:
Barley, Wheat, Hops, Yeast, Water - Vegan, Gluten Free

North x Square Ball California Pale Ale Ingredients:
Barley, Wheat, Hops, Yeast, Water - Vegan