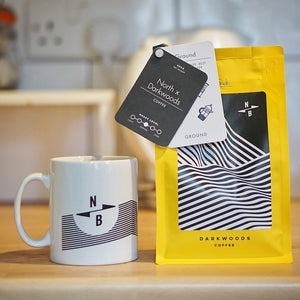 North Coffee + Mug Set
1 x NB MUG
1 x NORTH X DARKWOODS COFFEE / 250g 
Beans and ground available. 
Coffee : Water
13g : 8oz (225ml)

A blend of:
Peru Asproagro Coop (washed)
This high altitude coffee is purchased through the Feminino Project, a female run co-operative to address gender inequality in local agriculture. These beans give notes of caramel, nuts, cacao and white grape acidity.
Colombia El Jordan (washed)
From the renowned growing region of Huila. This coffee is produced by a group of 50 small growers whose members have been producing award winning coffees since its foundation in 2003.

Expect notes of toasted almonds, milk chocolate, and sparkling orange acidity.

Roasted for North Brewing Co by Darkwoods, West Yorkshire